New York-based artificial turf products supplier makes ultra-cool tabletop "fields" for Microsoft kiosks promotion; Surface Pro 4 laptop covers available with any of the 32 NFL teams' logos.
Salamanca, NY – September 19, 2016 – Custom Turf Outlet (CustomTurfOutlet.com), an online store that provides a myriad of turf solutions and which is a branch of Custom Turf, an artificial turf application company serving Western New York and Northern Pennsylvania, has announced its involvement with an exciting Microsoft promotion for the 2016 NFL football season. Microsoft retail stores nationwide are promoting the Surface Pro 4 laptop computers and their new covers available with any of the 32 NFL teams' logos, and Custom Turf Outlet has provided the display tops for the products featuring an artificial turf surface. The display has already caused quite the stir at Microsoft stores amongst hardcore NFL fans.
Officially referred to as Microsoft's Special Edition NFL Type Covers, the eye-catching laptop accessories take the standard Surface Pro 4 Type Covers and add an officially licensed NFL team logo on the back. Team graphics leap off the fabric with vibrant, bright colors, and the covers are constructed of premium materials, with Microsoft representatives stating the Surface NFL Type Cover "gets better over time." Crafted from the latest generation of Surface Pro keyboards, the NFL Type Cover provides optimal key spacing for fast and fluid typing, plus an enlarged track pad for precision control and navigation.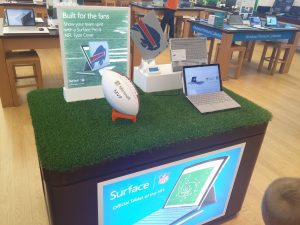 Further, a magnetic stability feature allows users to adjust to the perfect angle in order to work comfortably – both in the office or on the way to watch the game.
Microsoft representatives say the Type Covers will work with a Surface Pro 3 or Surface Pro 4, with all of the designs available at Microsoft stores in the U.S. and Canada for $159.99.
"As the premium online supplier for many artificial turf products, we have worked with architects, developers and project managers since 1996 to develop practical, award-winning synthetic turf solutions," says Steve Beattie, owner of Custom Turf Outlet. "We provide only the finest turf products available, with each of our selections proudly made in the U.S. – and that includes the unique, attention-grabbing 'turf' tabletops for this Microsoft NFL laptop covers promotion. In mimicking the look of a genuine football field, the turf-topped display tables we've provided Microsoft kiosks nationwide have attracted the attention of football fans and shoppers that happens to walk by…and that was the goal."
According to representatives like Beattie, the benefits of using Custom Turf Outlet's artificial turf products are multi-dimensional, including low maintenance costs, pesticide-free characteristics, increased "playability" (making them much more durable than grass) and fewer injury-invoking accidents.
Parent company Custom Turf is located at 296 Rochester Street in Salamanca and can be reached by calling (716) 945-0283. For more information about Custom Turf Outlet visit www.CustomTurfOutlet.com or email info@CustomTurf.com.