Custom Turf Outlet carries a variety of artificial turf that is perfect for baseball and softball practices.
Our Baseball Hitting Mats are designed to bring consistency in your swing, while being tough enough to take the abuse of batting practice (with spikes) indoors and out. It's no surprise why high schools, colleges and professional organizations choose Custom Turf Outlet's batting mats for their baseball and softball teams. These mats are great for using as batting cage mats for hitting practice sessions.
Our baseball batting mats measure 6' x 12' and come in two different colors: clay and field green. These mats are designed to mimic grass on a real field but also provide comfort for hours of practice. The 5mm foam backing provides the cushion that takes the stress off your back and puts the focus on hitting the ball accurately.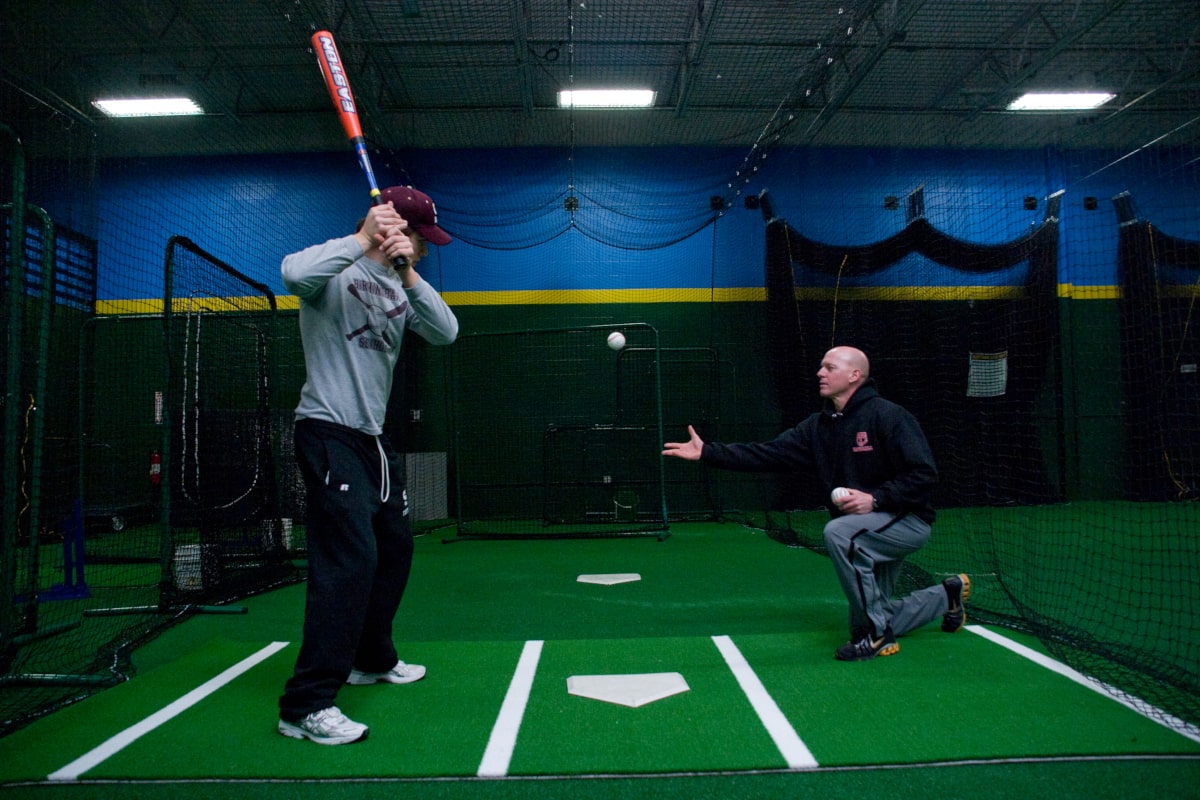 Baseball Hitting Mats
Designed to endure all weather conditions as well as baseball and softball spikes, our baseball batting mats deliver professional level sporting equipment at an affordable price.
The polypropylene synthetic turf blades with 5mm foam backing provides a comfortable feel, while maintaining a tough surface for daily abuses by athletes. The 5mm foam backing allows the surface to react more like natural turf, and prevents athletes from feeling fatigue after hours of batting practice.
Batting Mats Specifications:
Materials:

Polypropylene with 5mm foam backing.

Warranty:

5 year manufacture.

Colors:

Clay and Field Green
Athletes Train With Baseball Hitting Mats
Training and conditioning are two key factors for obtaining a peak performance. Practicing on batting mats allows athletes to replicate game time conditions while off-the-field. Regular practice on baseball hitting mats will add more consistency to your mechanics and furthermore your swing.
Custom Turf Outlet has been innovators in the artificial turf business since 1996. For decades we have been installing artificial turf products throughout New York state and Pennsylvania. But now we have the ability to sell our award winning products cut to size on Custom Turf Outlet.
Swing repetition develops the proper mindset and stance needed for progression in the sport of baseball and softball. The 5mm foam backing adds just the right amount of support to the batter and also, provides an equal playing surface when used on different terrains.
This consistent footing keeps focus on the other instructions and applications and as a result practice sessions are more effective. A color choice between clay brown and field green allows a matching aesthetic to practice areas or suits one's personal preference. Designed and manufactured for durability, furthermore these batting and hitting mats are built for indoor and outdoor use without deteriorating due to low or high temperatures. The home plate and batter's box lines are inlaid and will not fade.
Use Hitting Mats Indoors or Out
Baseball spikes were also considered during development, because we need a turf to withstand hours of twisting and turning. The portability of the mat also provides more time to improve technique and team building as adverse weather conditions only require a change of location. You or your team can having batting practice after a rain storm, instead of being forced to work indoors.