Custom Turf Outlet is happy to provide all willing batters with a spot on their custom on deck circles! When you're the next man or woman up to bat, you can't just trot out of the dugout and find a spot in the dirt to take warm-up swings. There should be a designated spot – a spot that highlights your school or organization. Custom Turf Outlet specializes in artificial turf of all kinds, and is completely dedicated to making sure all customers are satisfied with their on deck turf and that all batters are ready to step up to the plate!
Custom On Deck Circles Increases Brand Awareness
Specializing in artificial turf only makes the job easier when it comes to custom on deck circles. Just send a digital file of your logo, and we'll get to work on transforming your brand into a spot where batters get warmed up. There's also no need to worry about the hassle of coming to pick the turf up or hauling it all the way back to your facility – we're happy to ship it right to your doorstep for free!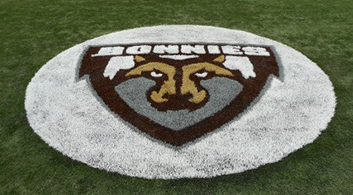 Custom On Deck Circles
Designed to endure all weather conditions as well as baseball and softball spikes, our baseball batting mats deliver professional level sporting equipment at an affordable price.
The polypropylene synthetic turf blades with 5mm foam backing provides a comfortable feel, while maintaining a tough surface for daily abuses by athletes. The 5mm foam backing allows the surface to react more like natural turf, and prevents athletes from feeling fatigue after hours of batting practice.
Batting Mats Specifications:
Materials:

Polypropylene with 5mm foam backing.

Warranty:

5 year manufacture.

Colors:

Clay and Field Green
Unique Branding for your Field!
Custom Turf Outlet's  On-Deck Circles are a unique product for generating sponsorship revenue, or branding your team, on your field. This on-circle synthetic turf is constructed of a polyethylene and nylon blend. The no rubber infill makes it one of the toughest on-deck circles on the market.
Contact our team of experts with any questions you have regarding on deck circles or other artificial turf products and field logos.
Use Hitting Mats Indoors and Out
Baseball spikes were also considered during development, because we need a turf to withstand hours of twisting and turning. The portability of the mat also provides more time to improve technique and team building as adverse weather conditions only require a change of location. You or your team can having batting practice after a rain storm, instead of being forced to work indoors.