Gain consistency and distance with more time to practice your golf game.
Our Golf Hitting Mats are made of high quality durable polypropylene turf with a commercial grade urethane secondary backing. The dense artificial turf blades helps to limit the club shock as you drive your club through the mat. This is a great golf hitting mat for experienced golfers and beginners as well.
The mat can be used on virtually any surface, including concrete, wood decks or hit off your lawn and avoid replacing divots. It rolls up easy for storage or transportation, however it will flatten quickly because it is so thick and heavy. Perfect for hitting golf balls into a net.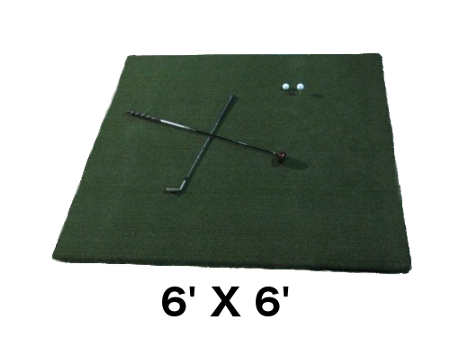 Golf Hitting Mats
Golf Mats are great for a home driving range, that gives you the ability to practice your swing year round. Get your game up to par, by hitting off a real tee which eliminates the drag created from the rubber tees. Your chipping will improve as well, because this mat is perfect for chipping right off the surface.
The polypropylene artificial turf blades with Urethane secondary backing provides a soft and cozy feel, while allowing your golf shoe spikes to dig in without damaging the turf. The 1 1/4″ turf blades are second to none and deliver a realistic follow-through, without creating a divot.
Golf Mats Specifications:
Materials:

Polypropylene with Urethane secondary backing.

Warranty:

1 year manufacture.
Hitting the Ball Off of Golf Mats
Stand on the mat and put your front foot just ahead of the ball, this places the ball near the middle of your body. The mat is large enough to put your feel a bit wider than shoulder width apart.
No need to stand on top of the ball, step back and make sure your elbows don't bend as you line up your shot. However, don't stand too far back that your arms are stretched out. Bend your upper body toward the ground, but not crouching.
Keep your shoulders square. This means you want to align the direction of your feet and shoulder pointed in. Have your shoulders and feet aligned together and pointed directly at the ball.
Use Golf Mats on All Terrains
Try not to be stiff like a cardboard cut-out bend at your knees a bit. Balance the weight of your body on the balls of your feet. As you swing the club, shift your weight toward the ball, slightly. Distribute your weight evenly on the two of your feet. The heels of your feet should lift off the ground slightly, in quick unison. Start your swing with an even distribution, as you shift your weight through your backswing, and also you downswing.